THE BUSHVELD WEDDING OF YOUR DREAMS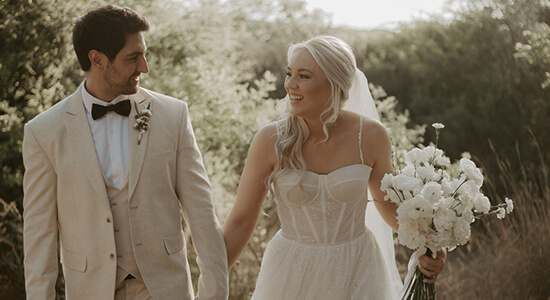 Simbali function venue is tucked away in a lush bushveld valley on the outskirts of Pretoria East.
Only a fifteen minutes' drive from the Eastern suburbs and retail centres, this makes for a convenient destination to experience the bushveld in a natural setting. Our establishment offers a variety of venues to ensure your event is filled with style, luxury and natural flair.
10 hectares of Unspoiled bushveld & Breathtaking mountain views. BESPOKE MODERN STYLE WITH ORGANIC FLARE.​
Omw! Julle is amazing! Baie dankie vir die perfekte aand. Ons is so vrek bly ons het Simbali gekies for the second time around. Michelle, Janine, ons is lief vir julle hoor! Die hele Simbali span het ons op ons hande gedra. Dankie vir ALLES!
"Food: Kos was baie lekker! Baie bly ons het die buffet opsie gekies, sodat ons vriende self kon opskep.
Service: Diens was baie goed! Die waiters en die res van die staff was great!
Venue: Stunning! Als was beautiful!"
"Ons wil net ongelooflik baie baie baie dankie vir jou en Janine se asook al julle personeel vir julle bydra om ons dag so groot sukses te kon maak! Ons kon nie vir 'n beter Venue of span gevra het nie, julle was almal stunning gewees.
Groete en Liefde "
" The food was INCREDIBLE!! Everyone raved about it and that lamb, I still dream about it.
Service, everyone was absolutely incredible, we danced so nicely with all the waiters and the bar lady's were lovely
Venue, as always, it was next level, everything was spotless, just perfect. Thank you so much for everything that you and your team did for us. We will definitely come back for our vow renewal in 20 years time"
"KOS: Uitstekend, baie lekker geëet. Goeie porsies en baie smaakvol, al ons gaste het die kos gekomplimenteer Service: Baie goed, goed georganiseerd en alles was 100%. Venue: FANTASTIES!!! Almal se hulle verstaan hoekom ons na GEEN ander venue gekyk het nie! Dit was NET Simbali. Ons is so gelukkig met ALLES!!! Ek het niks om oor te kla nie!!! Julle diens was UITSTEKEND! Als was so kalm, rustig en was presies hoe ek gedroom het dit sou wees! Jy en Janine is amazing!!!! Keep doing what you are doing."

"Food - die kos was excellent! Al ons gaate het so gesê. Perfekte porsies en helemal genoeg!
Service - ons het niks om oor te kla nie! Dit was baie goed en almal was heeltyd bereid om te help.
die venue is BEAUTIFUL! Alles is perfek. Julle doen 'n great job!"
"The staff of Simbali Lodge was outstanding. They were so helpful and absolute professional. The food was the best ever. Worth every penny spend. The guests were amazed with the venue. So beautiful but stil in the surroundings of the bush. A great thanks, especially to Shepard and his staff for the whole weekend excellent service and hospitality, they were absolutely amazing . The moment we arrived they were there to take our luggage to the rooms or venue. I can recommend Simbali Lodge for anyone and any function. They are truly the best. 10/10."
"I haven't even had my wedding yet as it is a month away but I cannot recommend Simbali more! They are absolutely incredible, professional and so accommodating. The venue is absolutely breathtaking too!"
"Had a great wedding experience with them! Thanks Simbali!"
"Beautiful venue and friendly service. Loved it there"
Baie baie dankie vir n ongelooflike trou dag!!!! Julle het aan elke liewe ding moontlik gedink!! Ons kan met absolute eerlikheid sê dat NIKS n laagtepunt was nie!!!
Wow julle was absoluut amazing, dankie vir al julle moeite, omgee en reëlings! Ons dag was perfek ons kon nie vir beter vra nie.
Sooo baie dankie vir die mooi dag gister julle was awesome !! Ek kon nie vir n beter venue vra nie !! Julle het my sprokie laat waar word.
Beste Adel, vrek ek wil net regtig waar baie baie baie baie dankie sê vir al julle moeite vir ons baie spesiale dag! Dit was werklik sooo mooi en perfek!! Alles en meer wat ons wou gehad het! Dankie vir al julle hulp, vriendelikheid en dat julle net soo awesome was!!! Venue is stunning, kos was amazing & die diens was uitstekend!! Baie baie baie dankie vir alles .
"Thank you so much! We had the best wedding. I wouldn't have changed a thing! even the rain. Didn't get us down"
"Goeie naand. Ek en Johan wil net sê BAIE BAIE dankie vir alles wat julle vir ons gedoen het op ons groot dag! Julle is een ongelooflike span. Die venue is gorgeous en alles werk net! Dankie weereens dat julle dit net soveel meer die moeite werd gemaak het om Simbali te gebruik vir ons troudag"